A customer relationship management (CRM) solution efficiently manages an organization's interactions with its existing and potential customers. It provides a 360-degree view of customer analysis. It effectively reveals customers' order history, buying behavior, and their interactions. Gartner predicts that by 2021, CRM will be the single largest source of spending in enterprise software. CRM software plays a critical role in managing customer relationship management requirements of a business. Sales and customer service representatives cater to customer request better using CRM solutions.
Businesses can use CRM systems powered with open source platforms like Odoo to save costs and make CRM processes more efficient. ERP developers use Odoo to develop CRM solutions that provide benefits across multiple business dimensions. Odoo provides a comprehensive suite of business applications including Customer Relationship Management (CRM), Human Resource Management (HRM), Account Management, Inventory, and Manufacturing.
Odoo CRM and sales management module enables organizations to manage customer service requests and sales in an efficient manner. With Odoo, organizations can track the workflow from start to end. Odoo CRM integration module has provisions to manage leads, opportunities, customers, orders, price lists, and quotations.
Odoo CRM is a fusion of more than 8+ Apps and plugins. Some plugins for the efficient management of customer relations are listed below:
CRM
Survey CRM
Resellers
Opportunities to Quotations
Marketing Campaign
CRM Gamification
Contact Form
Key Features of  Odoo CRM
1.) Priority activities: Follow up activities in pipeline to meet targets efficiently
2.) Dashboards: Access all the important details of on-going business activities using dashboards
3.) Track Sales Activities: Track sales activities across the sales pipeline (Kanban view) easily
4.) Leads Promotion: Send auto-generated emails to leads
5.) Opportunity Analysis: Analyze opportunity pipeline with grouping, drill down and other advanced filters
6.) GeoIP: Detect countries and cities of leads automatically from the visitors IP address
7.) Email Marketing: Enable users to send email to contacts in bulk
8.) Lead Generation: Organizations can set up rules for generating leads using details of website visitors
How to Manage Customer Pipeline and Sales using Odoo CRM Integration
Lead Generation:
Lead generation is a critical requirement for an organization to spot potential customers. Odoo CRM module centralizes and efficiently tracks/manage various leads generated from users within the organization. It further converts leads into opportunities.
Odoo CRM automates lead generation processes, shares pertinent information across different teams and analyzes the sales process.
Here's a screenshot of a typical Odoo powered CRM system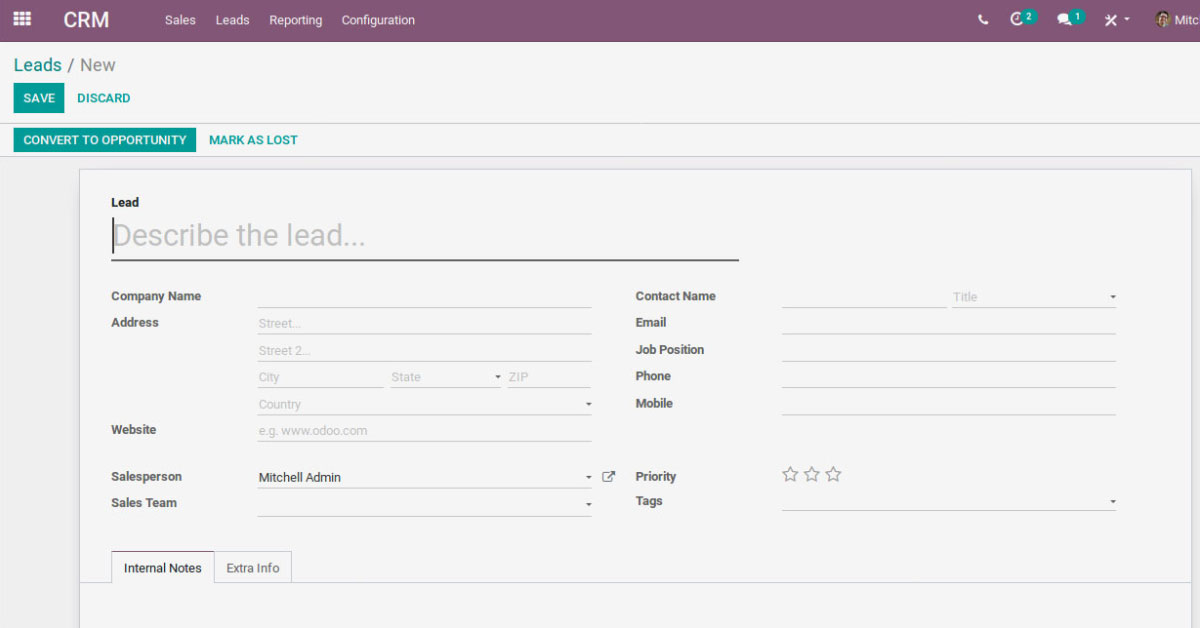 Figure 1.0
To create new leads, click on the 'Lead option from CRM settings. A new menu for creating leads will appear (as shown in figure 1.0). Fill in the description and other details such as an address, email, mobile, fax, and sales team.
Opportunity Management:
Opportunities represent potential contacts. An opportunity requires timely follow-ups from a salesperson. Odoo CRM module enables organizations to easily track the opportunities within various stages and schedule meetings accordingly. It gives an overview of the opportunity pipeline with accurate forecasts and insights for informed decision making.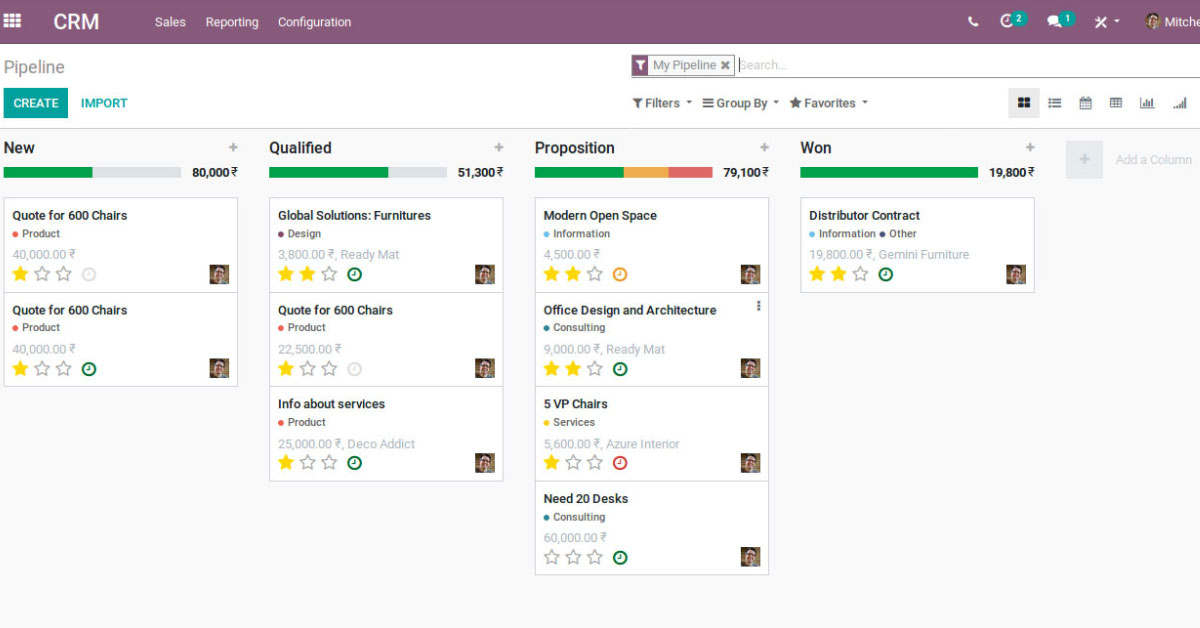 Figure 2.0
After a lead is converted into an opportunity, it is pipelined. It is then displayed in the sales pipeline section to give end users a view of opportunities grouped within corresponding stages (as shown in figure 2.0). The particular salesperson for the assigned lead can move it from one stage to another (for example, from New Lead > Qualification > Proposition > Won)
'Drag and Drop' is one of the main features of Odoo in this view. It enables users to change the stage of an opportunity by simply dragging from one stage to another. Odoo CRM also opens up the possibility of creating sub-stages.
Lead Scoring:
Lead scoring enables sales and marketing departments to identify which prospects are more valuable to the organization. The sales team can keep a track on the engagements and follow-ups with lead scoring.
With Odoo CRM integration, organizations can score leads according to their own defined criteria. This way organizations can prioritize leads and allocate time accordingly. They can even schedule particular activities based on the quality of a lead.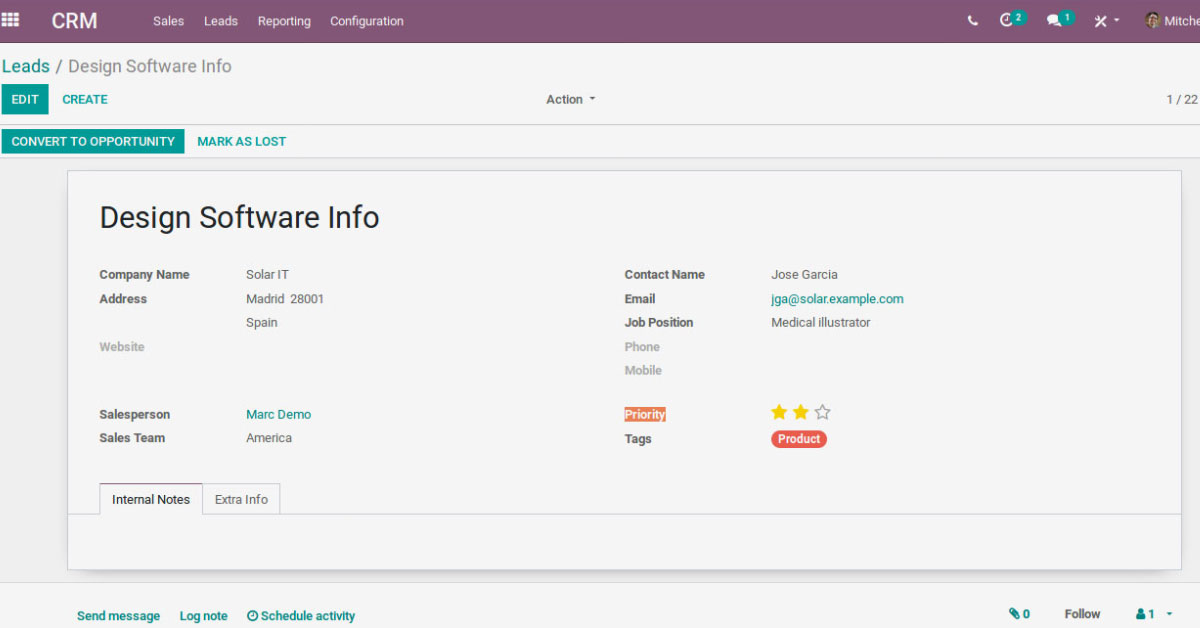 Figure 3.0
Figure 3.0 shows the lead score in the form of the number of stars (more stars indicate a higher quality opportunity).
Schedule Next Activities:
Odoo CRM integration enables organizations to schedule next activities such as meetings and phone calls to stay on track.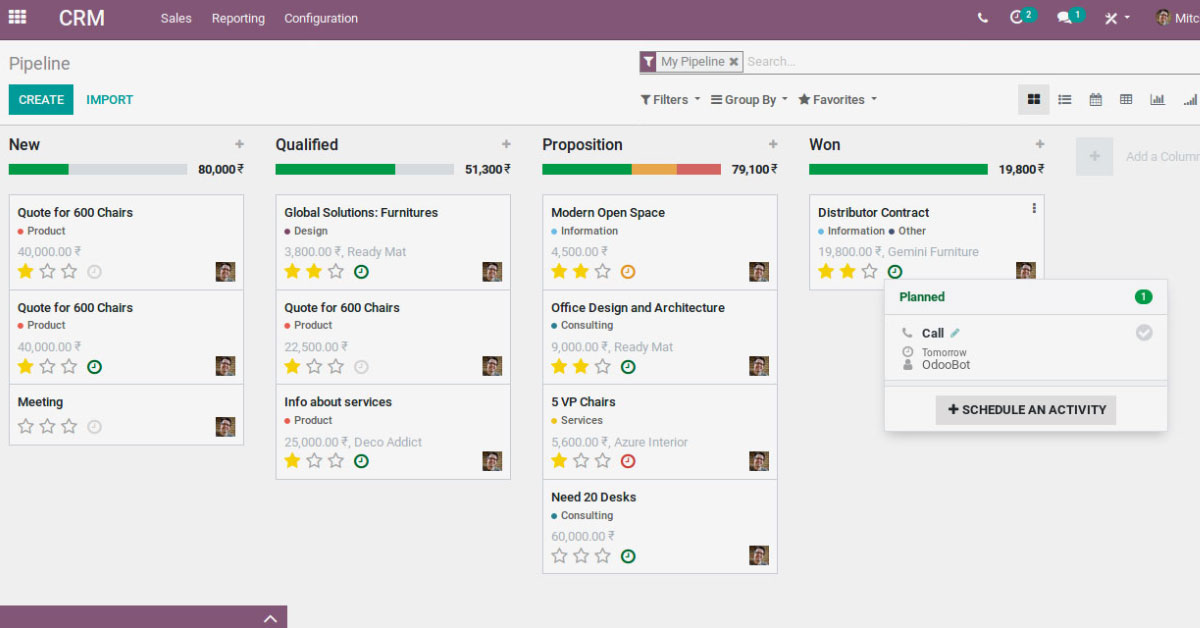 Figure 4.0
With VoIP integration, organizations can call (as shown in figure 4.0) or email clients directly from the system. Organizations can even manage their schedules with Odoo's inbuilt calendar.
Send Quotations:
With the Odoo CRM module, organizations can easily send quotations to qualified opportunities.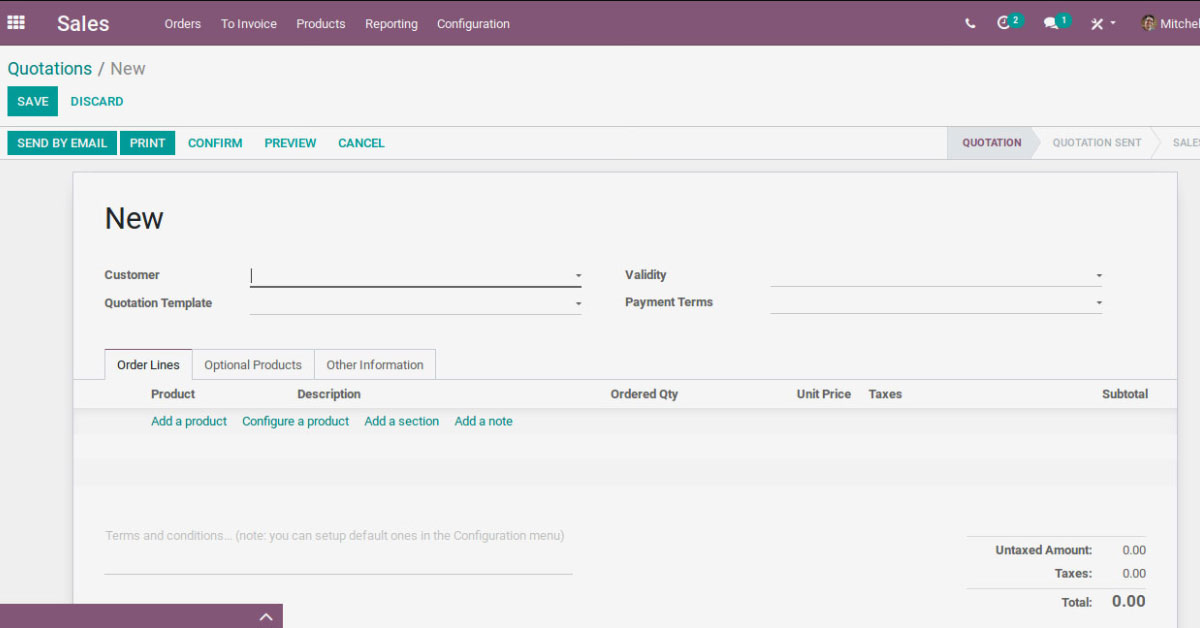 Figure 5.0
The users' simply need to click on the 'lead', click on the 'New Quotation Option', fill in the required details and then send the confirmation by 'Email' or 'Print (as shown in figure 5.0)
VoIP Integration:
VoIP is an industry-standard technology that supports voice calls using Internet Protocol (IP). Integrating Odoo CRM module with VoIP systems such as Asterisk can increase the efficiency of organizations tremendously.
For example, when an organization receives inbound calls from leads/clients, then the screen will automatically populate the client information and other important details.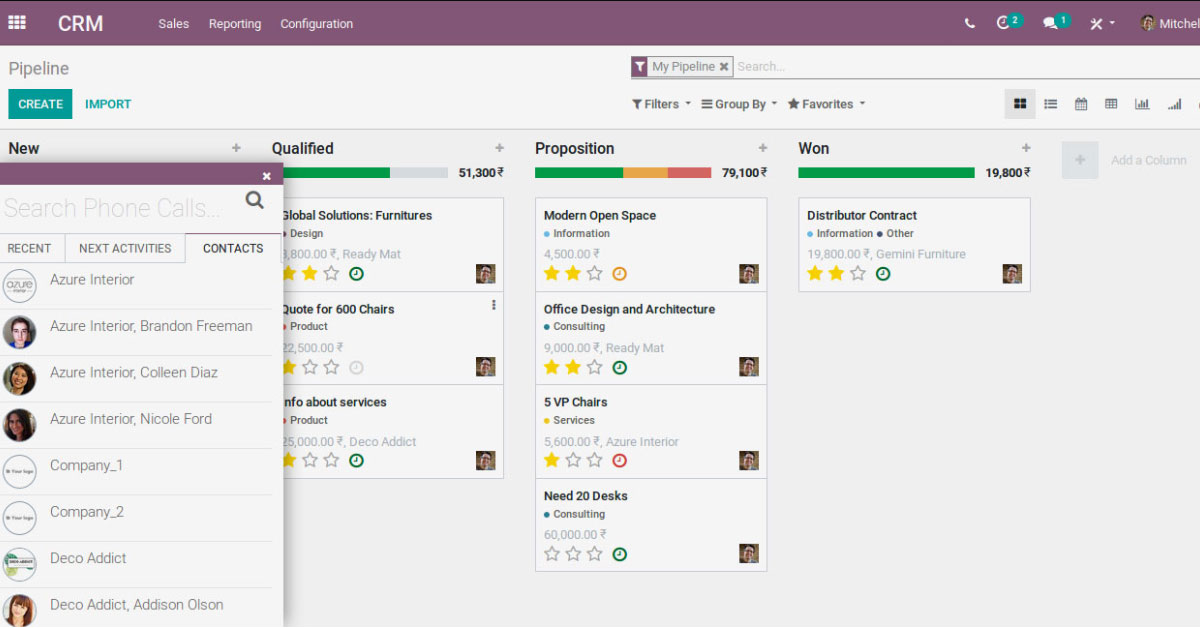 Figure 6.1
Additionally, organizations can make outbound calls directly from Odoo and even set up an automatic call queue for calling different leads (as shown in figure 6.1 and 6.2)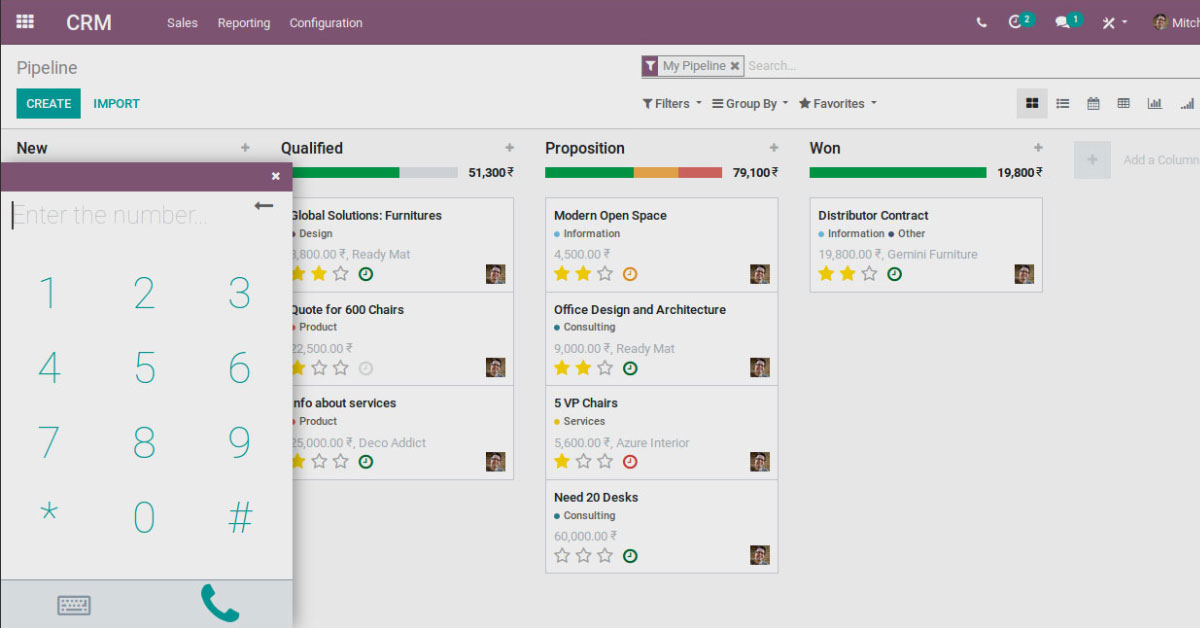 Figure 6.2
Reports/Dashboards:
With Odoo CRM integration, sales managers have access to custom dashboards where they can easily view important leads/opportunities in the form of graphs and charts (as shown in figure 7.1 and 7.2) They can export data or create reports. It enables employees to analyze leads/opportunities and gain insights into marketing and sales activities. Employees can even analyze the lost and won opportunities to identify trends and boosts conversion rates.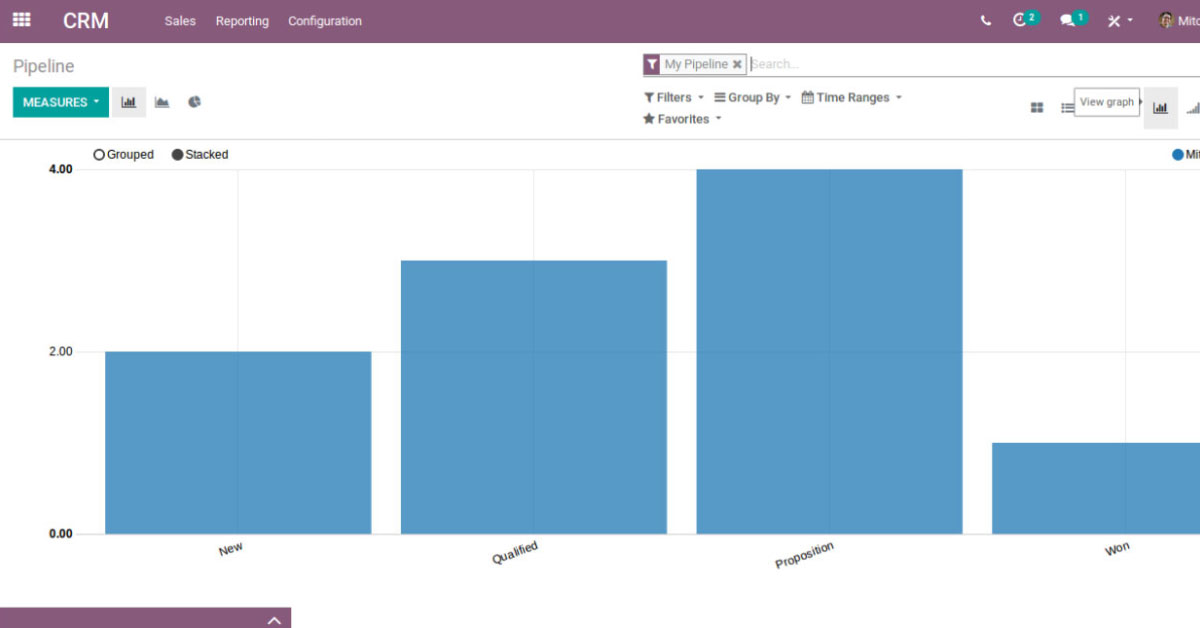 Figure 7.1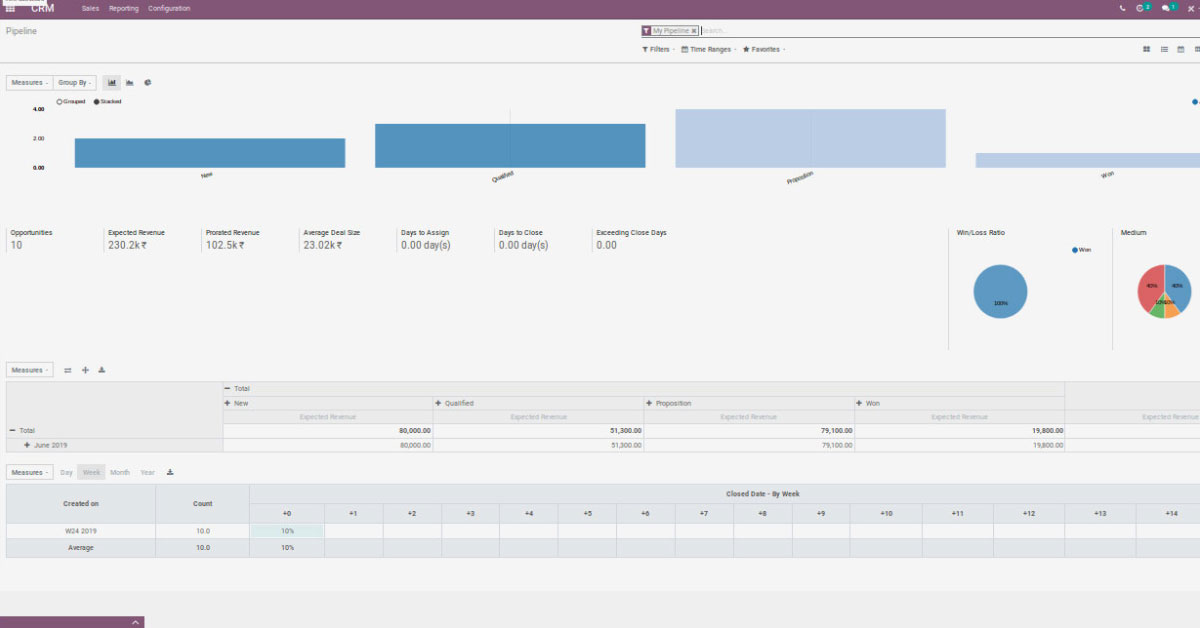 Figure 7.2
Avail Benefits of Odoo CRM with Oodles
We at, Oodles ERP provide a powerful stack of more than 10,000+ Odoo supported applications. With our Odoo application development services, organizations can streamline and fully automate their business processes.
Whether its theme development, custom application development, migration or reporting operations, our dedicated team of professionals can cater to your specific requirements with the Odoo framework.
Our ERP team has experience in developing and implementing effective Odoo CRM systems to streamline business processes and enhance the customer experience.
Concluding Thoughts
CRM plays a critical role in organizations, enabling sales managers to view all the customer information in one location. Odoo has increased the efficiency of CRM. Its efficient pipeline management accelerates and organizes the CRM activities of an organization.